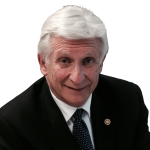 Anthony "Tony" Greenfield – CEO
Is the CEO at Ansercomm, a telephone answering service which he took over 50 years ago.  Tony is member of the Garden State Rotary Club of Cherry Hill and has held multiple roles within the group.  Rotary plays a huge role in Tony's life as their main charitable cause is the cure of Polio.  Tony was stricken with Polio as a child growing up in London during WWII.  He moved to the States as a young boy, became a citizen after completing high school and purchased Ansercomm at the age of 22 in 1964.
Under the tutelage of Tony, Ansercomm has grown into one of the premier answering services in the world.  In 1964, when Tony went into business in downtown Mount Holly he had a one room office with 5 employees and 35 customers. A half-century and a telecommunications revolution later, the genial Moorestown resident is the president, chief executive officer, and sole owner of Ansercomm, a telephone-answering service with 50 employees, 1,000 customers, and operations in Maple Shade and South Florida.
---
Michele Moken – Account Executive
Currently, I am the VP of Sales at Ansercomm, a telephone answering service in business for over 50 years. Ansercomm answering service gives back to our local community and many charitable organizations.  I have 20 years of sales experience. I have specific experience in many fields including: business development, telecommunications, manufacturing, mortgages, management, programming and currently, answering services. The most important part of my sales experience is my relationships with my fellow professionals. I feel an immediate gratification in getting my fellow net workers referrals and leads. For me the most important part of my networking groups are the mutually beneficial relationships that are brought together.
I believe that I have a personal relationship with every client I bring to our company. I strive to ensure that they are completely satisfied in all aspects. It is my personal mission to handle anything they need no matter if it is billing or customer service issues. I refuse to hand off my client's problems to someone else; it's my job to take care of them. I endeavor to form very strong networking relationships for the long term; both professionally and personally. All my networking connections are like family to me and as a family we work together and look out for each other.
As an Account Executive at Ansercomm, I am responsible for the outside sales department and the marketing of Ansercomm. I work with Businesses nationally and internationally. I customize and program the accounts specifically to my customer's needs. I currently sit on the board of directors for the Chamber of Commerce, Browse Your Town, Garden State Rotary of Cherry Hill, and The Cuddle Me Program. I am a member of other Chambers including Camden County Regional Chamber of Commerce, Winslow Twp. Chamber, White Horse Pike Chamber, Camden Chamber, Cherry Hill Chamber, Chamber of Commerce Southern New Jersey and the Greater Philadelphia Chamber of Commerce. Also included is Browse Your Town, Old Girls Network, Young Girls Network, Business Mingle, Network Connections, and The Power Lunch Project. I enjoy referring business within the Networking Community.
---